So I decided the logo that I made in my first year of study is a bit underwhelming and not specific enough. I decided it needs a redesign, and this - the start of my very own homepage and blog - would be the best opportunity for it.
This Form contains my initials (tb), but the "t" is barely recognizable and the b also loses face due to the awkward upper left corner, don't you think?
---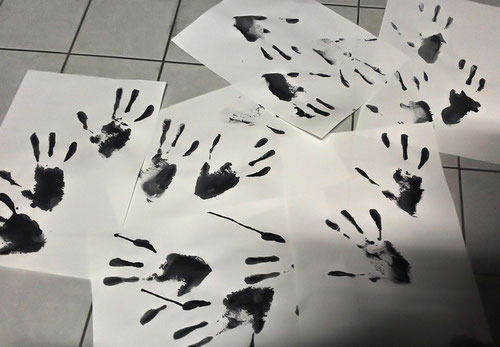 And so, I decided to take my hand print as a logo, since I have quite a specific one.
I mean, It's the most superficial element of my person which I can stand out with. It's iconic and easy to recognize - it doesn't get more straightforward and authentic than that!
So, since I don't yet have much material for "analogue" designs, I had to come up with some sort of colour to put on my hand, in order to make crisp prints on paper. 
All I had was black ink from my calligraphy class. Brilliant as I am, i decided to mix ink with water, sponge it onto my hand and print the papers. And it worked a treat! Except for the fact that it took about 3 days to clean off my skin afterwards... Oops... So I had to run around for a while, looking like I fiddled a chimney sweeper.
---
Aaaand here it is!
It will remain my Logo until I get a higher resolution scanner, to further improve the quality and resolution of this already existing design. 
I like the negative line created by the direction of the thumb. I flipped it over, and it lost part of its impact. Also, I like the vertical-ness of the other fingers pointing upwards. Another solution would have been, turning the print around, for the thumb to point straight up and the other three fingers to point in a positive diagonal.
Not sure yet which i prefer, but I instinctively go for this one. It is less "fun" and more straightforward. And easier to align text left of the logo. Will also have to see what high quality scanners my future reserves.
If you'd like a print of this, check out my Redbubble page.
---